You will need the following ingredients, all of these are available in store -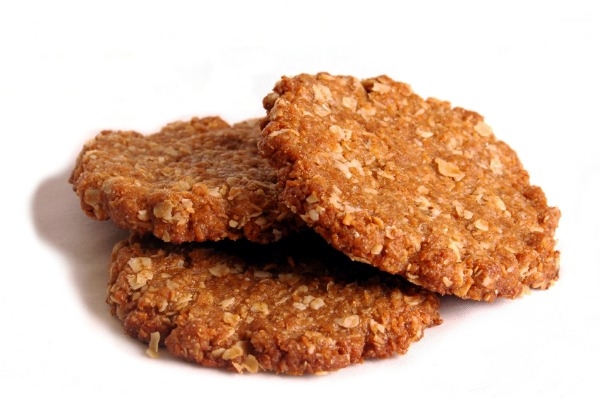 1 cup (90g) organic rolled oats
1 cup (150g) organic plain flour (try spelt or wholemeal)
⅔ cup (150g) organic rapadura sugar
¾ cup (60g) organic desiccated coconut
2 tablespoons organic agave,coconut nectar, molasses or rice syrup
125g organic butter
1 teaspoon baking powder (aluminium free)
2 tablespoons hot water
Preheat oven to 160°C. Mix the oats, flour, sugar and coconut in a bowl.
Place the nectar/syrup and butter in a saucepan over low heat and melt. Mix the bicarbonate of soda with the water and add to the butter mixture.
Add to the dry ingredients and mix well. Place tablespoons of the mixture, leaving space between each one for spreading, onto baking trays lined with non-stick baking paper and flatten to about 7cm in diameter.
Bake for 8–10 minutes or until a deep brown. Cool on trays for 5 minutes, then transfer to wire racks to cool completely. Makes 28.